Yes, the Proverbs 31 woman! How many women nearly buckle under the sound of those words? Who can achieve her status, and how can we become a virtuous woman? Is it even possible?
Through this series, we will explore the Proverbs 31 woman and learn how God has made it possible for us to apply His Word to our lives and raise our value to become far above that of a precious ruby. This will not be a difficult challenge, for God has not made His Word difficult to apply. He wants us to come before Him with gladness, not struggling for each step. May this opportunity be one that will increase your love for the Savior and for your families.
Our challenge will begin on September 3rd, 2007 and will continue through the fall. If you come upon this later than September 3rd, that's ok, we're glad to have you join us.
Here is a tag for you to put on your blog, just copy and paste this tag.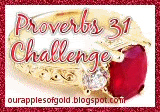 Also, reply here with a comment and let us know you have joined us.
What we'll be doing during this challenge:
*Memorizing verses 10-31 of Proverbs 31
*Studying each verse and how to apply it to our lives
*Increasing our value to the Lord, our husbands, our children, and the body of Christ.
I look forward to growing in the Lord alongside my fellow sisters in Christ.
Go to Lesson 1,
'Above Rubies'