In December 2007, my entire family went to see National Treasure 2. We LOVED the first
National Treasure
, and found
'The Book of Secrets'
to be just as adventurous. These films inspired my children to want to study their nation's history with such enthusiasm! They enjoyed learning about the secret codes and hiding places of all the clues. Yet, I am intrigued by how much of these films actually remind me of the Word of God.
Nicholas Cage's character had to study hieroglyphics and have a deep understanding of history and the English language, with all it's authentic definitions. He intently searched and studied all the clues to figure out where the treasure was hiding. Many people, including his own parents, didn't believe the treasures were real, but Cage did not give up. He was led by faith to find the truth hidden behind his ancestors past. Cage continued to seek, determined that he would find the truth.
Are we often faced with disbelieving friends or family when it comes to our own faith? God's Word is true and He gives us all His Wisdom in His book, The Bible. Proverbs 2:4 explains to us that we are to seek God's Wisdom as if it were silver.
"If thou
seekest
her as silver, and searchest for her as
hid treasures
."
If you knew that your ancestors kept a hidden treasure for your family's inheritance wouldn't you seek for that treasure until you succeeded in finding it? God has written, and preserved His Word throughout the generations so that we could have His wisdom in our lives today.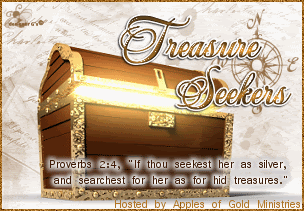 This year of 2008 is our year to be Treasure Seekers! I do hope you will join me in this quest as we 'Seek' God's Word for His Wisdom in 2008. We will begin our 'Hunt' on February 1st and I pray that you will spread the word to your friends and loved ones to join our adventure!

I have a small tag in my side bar with the code for you to copy and paste into your side bar. Who will join me in this quest in 2008?