Today I celebrate 16 years of marriage to my husband Scott. We chose February 15th only due to the schedule of our family to be sure they could get time off work to come. It had nothing to do with Valentine's Day. As a matter of fact, I do not recommend weddings so close to V day because the flowers are EXPENSIVE this time of year. :P
V day (14th) the year we were married, there was a HUGE snow storm in Northern California. Before my maid of honor and I could leave town to go to my mom's home the snow had hit hard and we could NOT get ot her house. We had to stay in the hotel room with Scott and one of our groomsmen. The next morning My mom's phone line was down. We called a friend who lived near her and she took her cell phone and 4x4 and drove 2 minutes up the road to where she found my mom,dad, and sister hiking in 3 feet of snow from the florist. They were snowed in and with no power, water, or phones.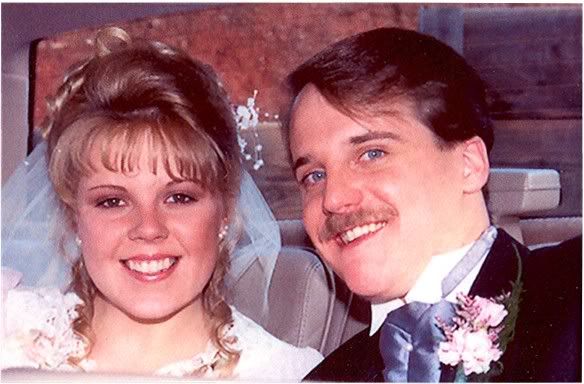 The friend drove them down to the town where we were staying in the hotel and I also learned that my aunt and cousins(bridesmaids) were snowed in, as was our caterer. The woman who owned the bridal boutique was also snowed in and we HAD to get my dress! My Pastor could not get over the pass through Tahoe and we had to find another Pastor to marry us. After Scott called every Pastor in the hpone book he finally found one that was NOT snowed in. As he went to the church to set up, my dad realized he forgot the key up the 30 minute drive to his snowed in house. The Pastor we were renting the church from was snowed in as well and Scott had to convice the town locksmith that he really wasn't breaking in and that we were scheduled to be wed that day.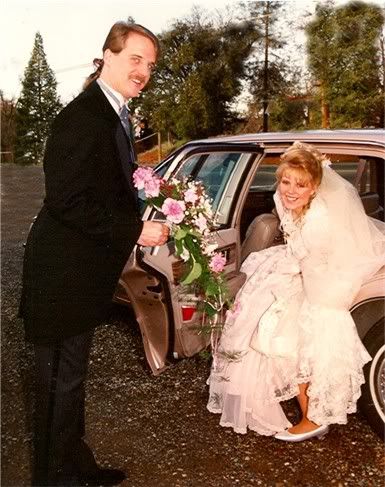 My uncle worked for CalTrans at the time and was still plowing snow on HWY 50 in Tahoe and We refused to get married without him, so we waited. We were schediled to begin the wedding at 3pm and were able to get started at 3:20 when Uncle Randy Arrived. :O)
There were 5 other weddings scheduled that same day in the same town that year. Sure would be great to meet THOSE brides!