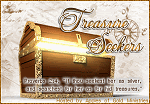 Thank you for being patient with me as I have been busy enjoying my anniversary week and my children were all ill at the same time. We're better now and working on getting back on schedule.
Today's little Treasure came to my mind over this last week as I have seen some adult friendships beginning to wane. There are times when differences are used by the enemy to wield a terrible rift between even the closest of friendships. This ought not to be so.
I understand there are times when a friendship may be turning sour and distance is the best course of action, however all efforts should be made to reconcile the friendship. Women in today's world are so competitive in relationships, careers, and even mothering. We compare ourselves to one another and strive to be the best 'soccer mom' and rise above all the other moms. Maybe you're climbing the ladder of success and the gossip bug bites you hard as your spread the latest juice about a co-worker in hopes of gaining a higher rank in the eyes of your employers. Some mothers attack other women in the church with their sly comments, being careful not to be blatantly rude, yet trying to condemn another woman with condescending remarks about her mothering style.
Where are we headed ladies? Where 'should' we be going? In this fast paced competitive world we live in, a meek and quiet spirit is an endangered character trait. It's almost extinct! We need to pull together and SUPPORT one another. We may not always agree, and that's ok. God doesn't expect us to be robots. We're not the Stepford Wives, we're individual, unique women raising our children and caring for our husbands. No one else can tell you how to provide for the needs of your own family. We have our guide in the Word of God and we each 'push towards the mark of the prize of the high calling in Christ Jesus'.
We run our own race, our path is determined by the Lord. No two maps lead down the same road, yet the destination is the same. There are times we take our own detours and get lost, yet where are we, as friends, during that time? Do we help each other to read the map or do we shun the lost and confused, leaving her all to herself to figure things out on her own? Do we ridicule her because she read the map wrong or help bring clarity and guide her to understand the truth? Are we even reading the map clearly? Maybe we're the ones that are lost and confused.
On a map you'll find a compass, it tells us which direction to go. Sometimes sailors will get off course on the open sea, yet when they follow the north star they end up going in the right direction. As long as they can see the star clearly, they'll be able to follow. As we read and study our very own map, we can see our direction with more clarity. We can support one another even when we don't agree.

I have a friend who placed her children in the public school and although I didn't agree with their decision. I didn't question it. She knew where I stood in my own beliefs, yet I remained a friend. When she wanted to go to their school and have lunch with her kids, I went with her. When she wanted to share about what they were learning, and facing each day, I listened. Just a few months later they decided to transfer their children back to the Christian School and I supported her again. We don't have to know the reasons another person makes a decision, but we are required by the Lord to remain a true friend.

Imagine what may have happened to our friendship had I shunned her during that time? Imagine the strain it would have placed on our relationship had I refused to return her phone calls or refused to hear about their school? We run this race, and may we run it with patience. There are times we need to pass the baton, will we be able to do so? can we help another runner as they need help to carry their baton?

Proverbs 18:24, "A man that hath friends must shew himself friendly: and there is a friend that sticketh closer than a brother."