I recently received an email with the word "GOD" in it and I just had to click on the hyperlink. What I found was a maze of sites trying to enlighten the average man about the existence of GOD. I found myself interested for the simple fact that knowing about the belief system of others is something that I find fascinating. I found a Jewish site that had a Q&A section. I was scrolling down when I saw a question that I knew I had to know their answer to -
IS There Logical Proof That There is One GOD?
I am someone who is always looking for logic. A way to explain my beliefs to those who claim not to believe in GOD or the BIBLE. I opened the page just to see the logic, but what I received was a stark reminder of how truly huge my GOD is.
GOD -- "
a Being without definition
." The site was using this to illustrate that GOD has no limits. I immediately thought of a verse that I had heard preached by a man in a "youth revival" when I was 16.
Isaiah 48:13,
"Mine hand also hath laid the foundation of the earth, and my right hand hath spanned the heavens: when I call unto them, they stand up together." (KJV)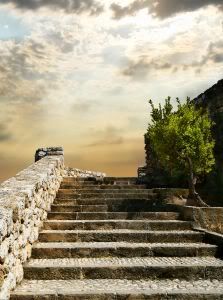 Just think about it, GOD has a hand bigger than the entire heavens. So, why do we worry about little insignificant details? I have been wasting my time worrying about how I am going to pay for Bible College in the fall. I have an all-powerful GOD and I am sitting here worrying. It seems a little stupid when put in that light, don't you think? My mother says that worrying runs in our family, but that is just an excuse that I have clung to for too long. Worry is an outright sin. When we worry we say to GOD that we don't really trust Him with our everything.
Proverbs 3:5,
"Trust in the LORD with all thine heart and lean not unto thine own understanding."(KJV)
Trusting GOD is a commandment clearly given in Scripture. So often we need this reminder to trust. And I know that no one else on earth needs it more often than I do.


Cassandra is a single young lady in search of a deeper walk with Christ. She is pursuing her college level studies from home and blogs at
Content of Praise
.
Guest Contributor
keywords:
trust
,
devotions