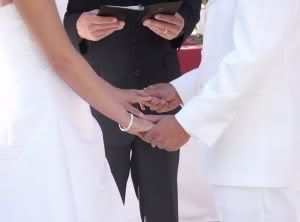 This last week I was speaking to my husband about our marriage series here at Apples of Gold and something really weighed heavy on my heart. We see in the news today that there is some confusion as to what marriage really is and how that term is defined. We voted last year to keep the definition of marriage as between a man and a woman and our vote won. Yet, now for some reason a Superior Court judge in the state of California thinks he can change that law on his own and many county clerks are following through with issuing marriage licenses to those whose relationship does not have the proper and legal definition.
I personally use one book as my text in regards to this issue in life and that is the Holy Bible. One local pastor at Trinity United Methodist Church has announced that he will perform these marriages and yet I have to wonder what he is using as his religious text. I am certain that it's not hard to understand God's word on this topic. In the book of Leviticus chapter 18 God lists the abominations;
"
22
Thou shalt not lie with mankind, as with womankind: it is abomination.
23Neither shalt thou lie with any beast to defile thyself therewith: neither shall any woman stand before a beast to lie down thereto: it is confusion.
24Defile not ye yourselves in any of these things: for in all these the nations are defiled which I cast out before you:
25And the land is defiled: therefore I do visit the iniquity thereof upon it, and the land itself vomiteth out her inhabitants.
26Ye shall therefore keep my statutes and my judgments, and shall not commit any of these abominations; neither any of your own nation, nor any stranger that sojourneth among you:
27(For all these abominations have the men of the land done, which were before you, and the land is defiled;)
28That the land spue not you out also, when ye defile it, as it spued out the nations that were before you.
29For whosoever shall commit any of these abominations, even the souls that commit them shall be cut off from among their people.
30Therefore shall ye keep mine ordinance, that ye commit not any one of these abominable customs, which were committed before you, and that ye defile not yourselves therein: I am the LORD your God. King James Version (KJV)"
I think it's very clear that not only does God NOT want man to lie with man, but also that a human not lie down with a beast. Both of these are abominations listed together in the Bible and these verses go on to explain the consequences of these actions. If you study the entire chapter you'll also see that to uncover the nakedness of your sister, mother, brother, etc.. is on the same list of abominations to the Lord. He is very clear that He wants the people to be pure and undefiled. If same gender relationships continue and become legal, then what happens when people insist that they are 'in love' with their own children? Will that group of people then push their views upon the children and defile them legally? Will those who lie with beast push for laws to make it legal for humans to procreate with beast? Where do you draw the line? I know where God draws His line!
Leviticus 20:13, " If a man also lie with mankind, as he lieth with a woman, both of them have committed an abomination: they shall surely be put to death; their blood shall be upon them." KJV
Leviticus 20:15, "And if a man lie with a beast, he shall surely be put to death: and ye shall slay the beast."
God made sure to explain these verses and he lists them together in his commands. How can we overlook these commands from the Lord and say it is left to your own interpretation? I don't see any other way to interpret these verses other than DO NOT have these kinds of physical relationships. He know from history that God was sorely displeased with the lifestyle in Sodom and Gomorrah when he rained fire and brimstone upon their land and destroyed them.
2 Peter 2:6, " And turning the cities of Sodom and Gomorrha into ashes condemned them with an overthrow, making them an ensample unto those that after should live ungodly;"
Jude 1:7, " Even as Sodom and Gomorrha, and the cities about them in like manner, giving themselves over to fornication, and going after strange flesh, are set forth for an example, suffering the vengeance of eternal fire."
I live in the state of California and this state is about to make a seriously unwise decision in allowing these marriages to take place legally. It was reported that '..as early as mid June same gender couples may be issued marriage licenses...' Now has anyone else noticed that mid-June is also the time that the state of California also suffered severe loss due to fires?
This is a time for all Christians to be praying for the people of America and the state of California. I do not want my children growing up seeing physical intimacy that is contrary to God's law right on the local news stations. When God told Abraham that He was going to destroy Sodom and Gomorrah, Abraham sought mercy from the Lord because his cousin Lot dwelled there. God stayed his wrath from Sodom and Gomorrah for just a short time while Abraham tried to get Lot and his family out of the city. We do not know how long God will stay His hand from the modern day Sodom of San Francisco.
Should the state of California make these relationships legal institutions, I will fear for the entire state. We know from the Bible that the world will have an end, and many have said that they sense the end is near.

In the book of Genesis we know that God created Adam and a wife for him named Eve. He created them male and female. He commanded them to multiply, by having children. If you study biology you'll know from Science that life is created through male and female, not just with humans, but all life is multiplied by male and female genes.

Genesis 1:27," So God created man in his own image, in the image of God created he him; male and female created he them."
Genesis 6:19,"And of every living thing of all flesh, two of every sort shalt thou bring into the ark, to keep them alive with thee; they shall be male and female."
Genesis 7:3, " Of fowls also of the air by sevens, the male and the female; to keep seed alive upon the face of all the earth."
Genesis 7:16, " And they that went in, went in male and female of all flesh, as God had commanded him: and the LORD shut him in."
Genesis 4:1, " And Adam knew Eve his wife; and she conceived, and bare Cain, and said, I have gotten a man from the LORD."
We know that God created woman for man.
Genesis 2:22, "And the rib, which the LORD God had taken from man, made he a woman, and brought her unto the man."
verse 24, "Therefore shall a man leave his father and his mother, and shall cleave unto his wife: and they shall be one flesh."
It was Eve who gave birth to the children. Without the male and female organs and genes the human race would not have existed. Women have been gifted with the ability to have children, but must do so with the help of man. Even among those who think they can have children by artificial insemination, the male and female gene must exist. God created man and woman for each other. As a woman I am proud to be female. I am thrilled that my body can create human life, and feed my own infant with the body God created for me.

Have you ever been walking with your children in the park and your child ask, "Is that a man or a woman?" as they point to a human walking down the path. How can you tell? Usually a child can tell if the human has long hair, wears certain clothing, and has some sort of chest that signifies that they are female. Yet in today's culture we see cross gendering, men who dress as women and women who hide their femininity. The future generation of humans have an ever changing culture that brings confusion.

1 Corinthians 14:33, " For God is not the author of confusion"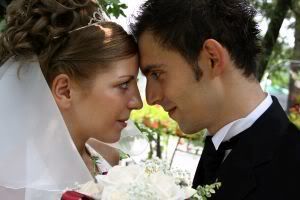 God was very specific in how he created humans, male and female. His purpose is for male and female to bear children. We see many different races be proud of who they are. There is African American Pride, Asian Pride, Hispanic Pride, Caucasian Pride and even Deaf Pride. These are people who are proud of who they were created to be. Well, I am a woman. I am proud to be female and do not hide the fact that I am a woman. I do not have to wear clothing that reveals my female parts, but I do wear clothing that is clearly feminine. My children do not have to worry that their friends won't know if I'm the mommy or the daddy in our family. There will be no confusion from our family.

Marriage is between a man and a woman, just as God ordained it in His Word.
BY definition:
Man- an adult male person, as distinguished from a boy or a woman.
Male- a person bearing an X and Y chromosome pair in the cell nuclei and normally having a penis, scrotum, and testicles, and developing hair on the face at adolescence; a boy or man.
Husband- a married man, esp. when considered in relation to his wife.
2.an organism of the sex or sexual phase that normally produces a sperm cell or male gamete.
Woman- the female human being (distinguished from man).
Female-
1.
a person bearing two X chromosomes in the cell nuclei and normally

having a vagina, a uterus and ovaries, and developing at puberty a relatively rounded body and enlarged breasts, and retaining a beardless face; a girl or woman.
2.
an organism of the sex or sexual phase that

normally

produces egg cells.
Wife
- a woman joined in marriage to a man; a woman considered in relation to her husband; spouse.
Marriage
- the social institution under which a
man and woman
establish their decision to live as husband and wife by legal commitments, religious ceremonies, etc.
Let's keep the definition as God ordained it to be.

keywords:
marriage
,
husband
,
wife