One day while we were out miniature golfing, we saw a man and a group of other men with him out golfing. One of the men had a ball and chain on his leg for the evening. We snickered at it and asked what it was about and he said that since they don't do 'bachelor parties', they wanted to have some family friendly fun the night before we was to marry. It was all in good fun and not meant to belittle God's institution of marriage, yet it's marriage that we think of when we see a ball and chain. Yet in generations past we know that the ball and chain was the symbol of being imprisoned. These were placed on people for a consequence to breaking a law. They used these to keep track of the criminal, so he/she couldn't get away. There's another ball and chain we choose to wear in this world and that is of sin. A sin that keeps us from moving forward for God could be any kind of sin that cripples your effectiveness for Christ. This kind of sin is different in each individuals life.
Oxen wear a yoke that controls where they go depending in which way the master is pulling on
their reigns. You can see in this image that these two oxen are yoked together. These two oxen will go forward in the direction that the master is leading them. This yoke holds them bound together so they cannot leave each other's side. If the master directs them into danger, they will be bound in danger together. This yoke has caused these two oxen to be lead to the slaughter, should that be the direction their master is taking them.
2 Corinthians 6:14, "Be ye not
unequally
yoke
d together with unbelievers: for what fellowship hath righteousness with unrighteousness? and what communion hath light with darkness?"


God warns us to not be yoked together with those who are not living with the same goals in mind. We know that we can apply this principle to marriage, friendships, jobs, etc. Where one person goes, the one who is joined to them will follow. Who are you yoked up to? Is there a friend that often takes you out to lunch that also sneaks in a quick drink before returning to work? How long do you think it will take before you're taking a drink with them? Do you have an employer who uses profanity in front of you? How long before you think you'll hear those same words come out of your mouth in a moment of weakness? There are sins that disable us and we are yoked with people who are leading us to those choices. You can choose to avoid such friendships and God wants you to not be yoked up with them.
Maybe you have unyoked yourself from people like that already, but now you're in a marriage with someone who you could be leading down the wrong path. Is there something that your spouse struggles with, that you have not let go of yourself? Have you thought to prayerfully ask your spouse of there is something in your life that is leading them to temptation? Maybe you are participating in something that your spouse struggles with. You are yoked to that spouse and you're leading them in the same direction that you are going. One thing that we stress to the spouses of those in
The Well
and
The Sarah Home
is that if they want their loved one to recover then the whole family needs to abstain from that thing that so easily besets them.
Hebrews 12:1, "Wherefore seeing we also are compassed about with so great a cloud of witnesses, let us lay aside every weight, and the sin which doth so easily

beset

us, and let us run with patience the race that is set before us,"
I spoke about the master leading these oxen in the direction he determines is for reaching their goal. Their master desires to plant a field so he uses these oxen to plow the field for their garden. Who is your master? What direction is he leading you? What is your master's goal? What kind of produce does he want you to bring forth? Each and everyday we are plowing a field and planting seeds. What kind of seeds are you sowing for your family and loved ones?
If you have been released from the bondage of sin then be sure to break that yoke completely so you will never return to it. We must be sure to take action against the wrong master and be sure we don't end up putting that ungodly yoke back upon us.
Galatians 5:1, "Stand fast therefore in the liberty wherewith Christ hath made us free, and be not entangled again with the
yoke
of bondage."


What steps should you take to be sure that you're not going to end up with that same yoke upon your neck. What sin have you put away that is still lingering too close? Is that pet sin easily accessible? Maybe you have something that is similar to that sin, but you think it's not the same. Our loved ones recently lost their home to a fire and I noticed something interesting. It was something that stuck out to me, but I didn't think much of it until now. The bridge was a wooden bridge and the wood planks burned down to the iron beams that were hiding under them. The bridge wasn't completely destroyed. You could still walk across the bridge to the other side. It wasn't as easy as before, but it was still possible. Do you have a bridge to a past sin that you thought had been burned down? Is the beam still in tact and causing you to attempt that walk back?
We do have the power to avoid that bridge and we can have victory in destroying all access to that bridge once and for all, but you must choose. What are you willing to do to completely destroy that bridge so you never walk across it again? Are you willing to not even go down that same road again?
Turn and go in the other direction! God has a bridge that He wants you to walk across. He wants us to take His yoke upon us. Here are some things you can do to abstain from finding yourself on that same bridge again.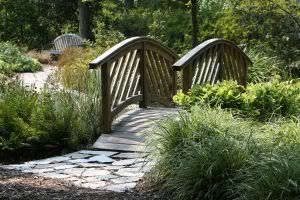 1. Destroy the bridge. Do whatever it takes to not only burn the wooden planks of that bridge, but also destroy the beams that are hiding underneath.
2. If your spouse is leading you down a path that hinders you, prayerfully speak up and continue to pray about the situation.
3. Read your Bible, study verses that bring strength and victory to you in that area, and memorize those scriptures.
4. Sing to the Lord. Take time to seriously worship Him. I don't mean just listen to music that has lyrics about the Lord. I am talking about really singing praises to His holy name. The Lord is your love and he desires for you to tell him how you feel about him, but not just in word, but in soul. Genuinely love him with your soul.
5. Be accountable. Tell your spouse what you're doing to insure that the old bridge is completely gone and do not pick up anything that would lead you to rebuild it.
6. Turn around and go across His bridge! Reach out to hurting people and begin to serve the Lord.