I was taught as I grew up that it is a good idea to have something that whenever you see it, you are reminded that God loves you specially.The point of the exercise is to pick something that you love and that you don't see on a regular basis.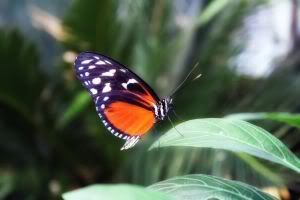 For me that something is a butterfly. I always loved butterflies. So when the thought of choosing something special was brought up, I didn't have a hard time thinking of what my special thing would be.
The love God has for us is something that most of us take for granted as we go about our day. But, if we have a reminder that is unique to us we are so much more aware. God has an infinite brain. He has the ability to think of each of us as individuals all at the same time.
Psalm 11:7:





"For the righteous LORD loveth righteousness; his countenance doth behold the upright."
Proverbs 8:17:, "I love them that love me; and those that seek me early shall find me."
Whenever I see a butterfly I think about how individually special I am to the God of the universe. The God who spoke the entire universe, galaxy, earth, etc. into existence loves me. There are many times I can barely think why my mother loves me considering how stubborn and sarcastic I tend to be, much less the God who deserves all honor and all praise from every single thing that exists. I know I don't deserve a bit of His attention, yet He freely gives it all the second I turn to Him.
Because He loves us so much why would we do anything other that love Him as much as we have the ability to? Jesus came to Earth and suffered unimaginable pain for us. It seems the absolute least we can do to follow His greatest commandment and desire for our lives.
Deuteronomy 6:5:




"And thou shalt love the LORD thy God with all thine heart, and with all thy soul, and with all thy might."
I know how hard it is to constantly keep God's love for us in the forefront of our minds, but I have found it to be much easier if we have a special something. Whenever we see that something we can smile and say to ourselves, "God sent that to me special today. He is so great. I'm glad He loves me!"


Cassandra is a single young lady in search of a deeper walk with Christ. She is pursuing her college level studies from home and blogs at
Content of Praise
.
Guest Contributor
keywords:
devotions
,
God's Love