(warning: not suitable for children)
I felt urged to write an article about Halloween. It is October and every store in America already has stocked up on Halloween candy and decorations. Halloween is fast approaching so I want to spread the word as quickly as possible. I want to make this clear. Halloween is not a Christian holiday and a follower of Jesus Christ should not partake in this holiday.
"But I say, that the things which the Gentiles sacrifice, they sacrifice to devils, and not to God: and I would not that ye should have fellowship with devils. Ye cannot drink the cup of the Lord, and the cup of devils: ye cannot be partakers of the Lord's table, and of the table of devils." 1 Corinthians 10:20-21
Kids love holidays because it is fun and scary, but to Satanists and witches, Halloween is no joke. October 31st is the most important day in the satanic year. It marks the Celtic new year. It is a festival of death where the god of the Celtics would call up the spirits of the wicked dead who had died that past year to harass other people. This is the day where the evil spirits are free to roam in the Earth.
"Neither give place to the devil." Ephesians 4:27
These things happened several centuries before Christ. These people made sacrifices to the god of death called Samhain (pronounced sah win). The sacrifices varied from vegetables to human beings. They had a feast and a festival to celebrate the god of the dead. This practice still occurs today in the world. It is not an ancient practice but this is a practice that is still occurring in the world today. I have listed the popular aspects of Halloween and how they originated below: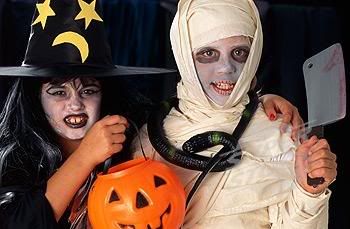 Trick or Treat- Celtics had priests called druids. The druids would go from house to house and demand a sacrifice. Whoever refused them would be cursed and tormented. History shows that someone in the cursed family would die within a year.
Jack O'Lantern- The druids carried large turnips with them and carved demon faces on it as their charm. There was a candle placed inside the turnip and the candle was made from human fat. It was believed that this charm contained a demon spirit that guided the priest. The spirit was called JOCK. When this practice arrived to America in the 18th and 19th centry, JOCK became Jack who lives in the pumpkin.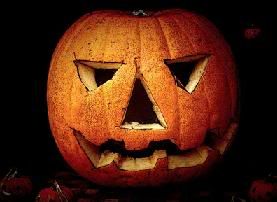 Witches- the middle age believed that witches traveled on broomsticks to the black Sabbats to worship Satan on October 31st. They were guided by spirits in the form of black cats. Witches are child murderers and often times they have babies specifically to sacrifice to Satan. Their living children are found traumatized and suffering from mental and physical torture.
Black cats- The druids worshiped black cats believing them to be reincarnated people.
Halloween- This name came from what was originally called All Saints Day which was a failed attempt by the pope to rid of the festival of the dead. It became All Hallows Day. Een is an abbreviation for evening so we started calling it 'Halloween.'
Costumes- In Ireland during the festival of Samhain, children would dress like IMPS and fairies to lead the evil spirits out of town after the feast of Samhain.
Monsters- In Druidism, the dead are raised as horrifying creatures of the night, hideous monsters, decaying skeletons, vampires, and so forth. They received not glorified bodies as Christ promises in our resurrection, but inhuman ones.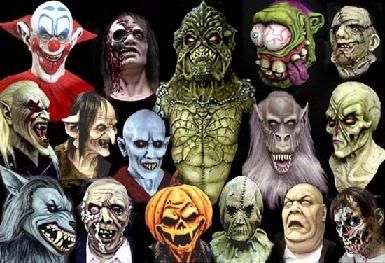 Look at today's Halloween. We celebrate the devil, witches, evil spirits, murderers, skeletons, death and monsters. We dress our children up like these evil beings and have them reenact the druid practice of demanding food and sacrifice. Instead of turnips, we use pumpkins and carve demon faces in it and decorate with it. At Halloween, we enjoy fortune telling, haunted houses, candles lit, seances, ouija boards in the name of fun and excitement. There will be sacrifices of animals and even humans! You say, "well, we don't take it seriously." But the devil does and so does God.
"Prove all things; hold fast that which is good. Abstain from all appearance of evil." 1 Thessalonians 5:21-22
Maybe you might say that all of this happen a long time ago, but these practices still occur in the world today. Every year on October 31st, the high priest of all witch covens are required to make a human sacrifice. God condemns witches. Their power comes from the devil.
Churches have tried substituting Halloween with Harvest Day, but Halloween by any other name is still Halloween. We are still observing Halloween if we celebrate that day, even if we dress up as Bible characters.
Halloween is the most dangerous time of the year for our children. It is not child's play. Reports show that more small children turn up
missing, injured
, and are found dead
from Halloween than any other time of the year. Farm animals and pets are often
slaughtered by Satanists
and they drink the animal and human's blood and urine and digest their entrails and perform orgiastic rituals.
Satan loves Halloween because it lures more kids into his fold and it is paying off. Witchcraft is exploding amongst teens today and psychic hot lines are making millions of dollars everyday from adults! It is rapidly growing all over the world and we can see popular movies such as Harry Potter and television shows that praise witchcraft. Witchcraft books are rapidly and furiously being sold off the counters more than ever before.
"Thus saith the LORD, Learn not the way of the heathen, and be not dismayed at the signs of heaven; for the heathen are dismayed at them. For the customs of the people are vain." Jeremiah 10:2-3



Here is an excerpt from an article in Moody Magazine by Joy A.
Sterling called "We Should Unmask Halloween":
"We evangelicals cringe at the descriptions of Satan worship in books and shudder at occult rites. But we dress our children as witches and devils and send them out to trick or treat…. Whenever the apostles met persons connected with fortune-telling, witchcraft or the occult, the Holy Spirit dealt firmly and swiftly with them. When revival came to Ephesus, the occult books were the first to go (Acts 19:18-19). Anything that conjures up the spirits of evil has to go. And I believe that the symbols of Halloween do conjure up the spirits of evil. Not deliberately, not openly perhaps. But the devil never has been noted for working openly. He tries to convince people that he doesn't exist. And what better way to deny his power and identity than to tell children and their parents that witches, ghosts, fortune-tellers and devils are 'just for fun?'"
I grew up going trick or treating just like every other kid in America. Halloween was my favorite time of the year. I loved the thrill of being terrified. A pastor told me the truth four years ago and it changed me forever. I realized that I was disillusioned about Halloween and that it was mere fun but that is a big lie! It took a while for me to adjust because I was used to celebrating Halloween. I can now see clearly with the truth and it amazes me how blind we all were to Halloween. I made a conscious decision to remove Halloween from my life and my children's lives. I will have no part of it. I want to educate as many people as I can about Halloween so that we can make wise decisions. Satan is a great deceiver and he is the father of lies. Let us ask God to reveal the truth in us today and to lift the veil off our eyes.
"Be ye therefore followers of God, as dear children; And have no fellowship with the unfruitful works of darkness, but rather reprove them." Ephesians 5:1, 11

Several years ago a friend of mine handed me a tract about Halloween and I blew it off. I had grown up celebrating Halloween and loved it. There was never a year that I did not dress up and enjoy the various festivities in my town.
Then one year our town's college kids got out of control. Their partying had overflowed our city's streets and wreaked havoc on the town and some officers were injured that night. The very next year our town had a curfew. The city had enough of the lawlessness and set a curfew and posted several more officers downtown for crowd control. It was the safest October 31st I had ever seen here.
Our family had tried to 'share the light amidst the darkness' by handing out Bible tracts with our candy. The very first person at our door dressed so wickedly that Gina, at the age of 2, screamed in terror. She thought REAL monsters had come to our front door. That was the last year we did anything.
My older girls were a bit disappointed to not be able to celebrate with the other kids and I asked them this, "You own dress up clothes. You can play dress up any other day, but not on October 31st. Why cry about not dressing up on ONE day of the year?" They actually saw the sense in it then we set ourselves to studying the holiday.
The next year after that we shut off our porch lights and our house lights inside and just had a sleepover with mommy, daddy, and the kids in the living room. We had people banging on our doors for candy. The year after that we again shut down all our lights and this time we locked our gate and barricaded our driveway (to the back door) so they couldn't get to our doors. THEY JUMPED THE FENCE! Still they came to our door, banging for candy. Last year was the first year they left us alone.
Hospitals offer free X rays for candy to be sure it is safe to eat. More and more parents are heading to the mall for safer trick or treating or they drive home to home of people they know. It's just not a safe night to be out let alone accepting candy from strangers. One year I remember the remains of a dog being found at a golf course in a town I used to live in. The remains were skinned and left at the golf course. The Humane Society will not adopt out animals during this time of year and local media urge pet owners to keep their animals inside.
Just as Charlene said above, there is so much evil surrounding this holiday. Even just at the mere thought of it we know it's about goblins, monsters, and witches. Now after the verses Charlene shared with you ask yourself these questions:
Why am I so bent on celebrating this holiday?
Why do I get angry when Christians mention this holiday as being evil?
What would Jesus do?
Jesus healed those who were possessed, consider the Maniac of Gadara and Mary Magdalene. Jesus didn't want them to be possessed, yet Americans today dress as if they are. Jesus did not want to have fellowship with darkness, so why do Christians partake in a holiday that is clearly wicked? When I used to celebrate that day, I actually had an unsaved neighbor make this comment to me, "I thought Christians weren't supposed to celebrate Halloween."
I want to challenge you to grow closer to the Lord through abstaining from this holiday. We are a called out assembly of believers that are to shun that which is evil. We are to be the light of the world, not partake in it's darkness. Here are a few things I'd like to ask you to consider adding to your prayer life today.
God, do you want me to have fellowship with darkness?
Jesus, do you want me to partake of this holiday?
Can I draw closer to the Saviour by celebrating, or by avoiding this holiday?
Why is it so hard for me to let go of this day and it's festivities?
Can I host an innocent costume party during a different month?
What will my unsaved neighbors think of me when they see me participating in this holiday?



"Dear Lord,


I pray that our readers will humbly seek your face and your Word on this matter. I pray for their hearts to be tender to your Word and to your voice as you lead them to make a decision about how they follow you. May the overall outcome of this article bring glory to your name Lord. Let us embrace your command to 'come out from among them and be ye seperate thus sayeth the Lord'.
In Your Name I pray, Amen."
2 Corinthians 6:17, "Wherefore come out from among them, and
be ye separate
, saith the Lord, and touch not the unclean thing; and I will receive you. "