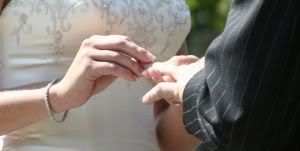 Ephesians 5:22-33, " 22Wives, submit yourselves unto your own husbands, as unto the Lord.

23For the husband is the head of the wife, even as Christ is the head of the church: and he is the saviour of the body.

24Therefore as the church is subject unto Christ, so let the wives be to their own husbands in every thing.

25Husbands, love your wives, even as Christ also loved the church, and gave himself for it;

26That he might sanctify and cleanse it with the washing of water by the word,

27

That he might present it to himself a glorious church, not having spot, or wrinkle, or any such thing; but that it should be holy and without blemish.



28So ought men to love their wives as their own bodies. He that loveth his wife loveth himself.

29For no man ever yet hated his own flesh; but nourisheth and cherisheth it, even as the Lord the church:

30For we are members of his body, of his flesh, and of his bones.

31For this cause shall a man leave his father and mother, and shall be joined unto his wife, and they two shall be one flesh.

32This is a great mystery: but I speak concerning Christ and the church.

33Nevertheless let every one of you in particular so love his wife even as himself; and the wife see that she reverence her husband."
Genesis 2:24, "Therefore shall a man leave his father and his mother, and shall cleave unto his wife: and they shall be one flesh."
We are one flesh, joined together. God sees us as one flesh. When one sins, the union is seen as spotted. We are to be without blemish. When we sin, we bring sin into the union. Your marriage relationship should be presentable to God. When we sin as an individual we are accountable to God for what we do, but we are also accountable as a couple. We bring our spouses into the suffering. When a spouse commits adultery, you cause your spouse to suffer as well.
Don't think you can cheat and not be caught. Don't think you can sin and not think your spouse will suffer. STD's are passed to your spouse. When a man causes another woman to be with child, his wife will suffer. She will now have to live with visitation, child support, etc while this man faces the consequences and responsibility for his sin.
Maybe it's the wife that steps out. She brings back STD's and she could end up with child with another man's child. Her husband and children will all suffer from that sin.
If one spouse is viewing those images which are not godly, whether on the internet, television, or magazines, it brings a reproach to the union. Maybe you think it's just the individual, but remember we are one flesh. The sin that is brought into one mind and heart of a married couple will infect the union.
When one spouse uses foul language, the other one suffers from hearing it. When one spouse yells the other one suffers from hearing it. We should be a friend to our spouse and sharpen one other to grow closer to the Lord. My daughter said something wise one day as we were discussing her desires in a future spouse. She said, "I want to marry a man whose walk with God makes me feel guilty." Her desire is that her spouse will cause her to draw closer to the Lord and keep her from sin. She does not want to be exposed to sin and tempted by the sin of her own husband.
Now let's not put all the blame on men in the world today. Keep in mind that it was Bathsheba who allowed herself to be seen by King David. She was a married woman and was bathing in clear view of the King's balcony. Then when King David sent his servants to bring her to the King's chamber, she went willingly. Had she resisted I think God would have told us. We know that Tamar resisted when her own brother sought to force himself upon her. Yet, nothing is said of Bathsheba resisting. Too many times we blame men for the sexual impurity in this world, yet women have their part too.
We are one flesh and we live as one flesh. What one willingly allows into the union, the other suffers right along with them. We know that there are many examples of generational sin in the Bible. There are some family generations that live in the sin of idolatry, some in marrying many wives, some in desires of war. Today we see family generations that suffer from the cycles of physical abuse, p*rnography, and addiction.
YOU can break the cycle. Do NOT continue to lead your own children into the same generational sin. We do have the power to overcome. We MUST quit living the way we have for so long. This world is going sour so quickly and Christians MUST make changes in order to grow. If we want our families to grow then we need to make changes.
So shall we all strive to live a life well pleasing to the Lord?
When was the last time you made a change to grow in the Lord?
Is there something you know God has been telling you to quit doing?
What will it take for you to obey?