Today America watched the United States usher in a new president, Mr. Barack Obama. Millions and millions of people tuned in and watched the inauguration of our 44th president. Today certainly is
a historic day as we saw our nation introduce the first African American president.
I admire Dr. Martin Luther King Jr. for what he stood for in bringing equality to
all
men to the attention of our nation. I applaud President Lincoln for sacrificing his life for the freedom of the slaves. I am in full support of all men being equal, as God created them to be.
However, regardless of who our nation's leader is we must NOT forsake the God of Heaven who has shown His mercy on us all these years.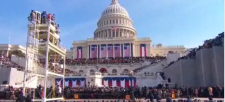 Today a man stood before our country and declared the future of our nation being in the hands of the people and for that I fear the Lord. We must not lose our healthy fear of God when our nation turns their faces away from Him and place their faces and faith in a man. Consider Revelation chapter 3 in John's letter to the Laodiceans. They are the church of the people.
His warning is strong when he says
Revelation 3:14-22, "And unto the angel of the church of the Laodiceans write; These things saith the Amen, the faithful and true witness, the beginning of the creation of God;

15I know thy works, that thou art neither cold nor hot: I would thou wert cold or hot.

16So then because thou art lukewarm, and neither cold nor hot, I will spue thee out of my mouth.

17Because thou sayest, I am rich, and increased with goods, and have need of nothing; and knowest not that thou art wretched, and miserable, and poor, and blind, and naked:

18I counsel thee to buy of me gold tried in the fire, that thou mayest be rich; and white raiment, that thou mayest be clothed, and that the shame of thy nakedness do not appear; and anoint thine eyes with eyesalve, that thou mayest see.

19As many as I love, I rebuke and chasten: be zealous therefore, and repent.

20Behold, I stand at the door, and knock: if any man hear my voice, and open the door, I will come in to him, and will sup with him, and he with me.

21To him that overcometh will I grant to sit with me in my throne, even as I also overcame, and am set down with my Father in his throne.

22

He that hath an ear, let him hear what the Spirit saith unto the churches."
He is warning us about our lifestyle. He says we are not cold nor hot. Dear Christians, we should be HOT for the Lord. Our lifestyle should be so hot that it makes people uncomfortable. People should know our spiritual temperature. Boiling water cooks food to prepare it for eating and providing nourishment. Boiling water changes the texture of a hard noodle into a soft noodle ready for consuming. Our nation knows we need CHANGE, but the change should not be in us. As we trust in God, know His Word, and follow His ways we will have CHANGE.
He says on verse 17 that people rely upon their riches and think they have no need of God. They increase in their wickedness and don't realize their need for the Savior. In verse 18 he tells us that He wants us to take HIM for our gold and be clothed in white raiment, that is the righteousness of God that can only be acheived through the acceptance of Christ the Savior. Finally in verse 19 he tells us to repent.
Keep in mind who he is talking to, the people OF Laodecia, the church of the people. We now have a leader telling us the future is in the people, I caution you dear people. It is not in us, it is in the Lord God himself.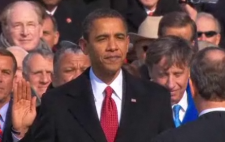 2 Chronicles 7:14, "If my people, which are called by my name, shall humble themselves, and pray, and seek my face, and turn from their wicked ways; then will I hear from heaven, and will forgive their sin, and will heal their land."
Do you see what I see in this verse? God is not saying "If the lost people of this world" He's talking about
US!
He is talking to US dear
brothers and sisters in Christ.
Let's break down this verse point by point.
1. He's talking about His people.
We are called by His name. We are called CHRISTians for a reason and this is who He is speaking to.
2.Humble themselves.
Why does God want us to humble ourselves?
James 4:10, "Humble yourselves in the sight of the Lord, and he shall lift you up."

1 Peter 5:5b, "...Yea, all of you be subject one to another, and be clothed with humility: for God resisteth the proud, and giveth grace to the humble. "

1 Peter 5:6, "Humble yourselves therefore under the mighty hand of God, that he may exalt you in due time:"
We need to bring ourselves to the place where we place ourselves under the direction of God again. How dare we think that if we aren't hooked on drugs, or committing adultery in our marriages that we're okay with God! Each and every Christian is to humble themselves before the Lord and seek to know what He wants us to change
in ourselves.
3. Pray.
We are to pray and I don't mean just for the three or four meals a day that you're partaking in. I don't mean just at church, but every day and several times a day.
4. Seek His face.
God wants us to seek to have a personal relationship with Him.
Mark 13:29-37, "So ye in like manner, when ye shall see these things come to pass, know that it is nigh, even at the doors.

30Verily I say unto you, that this generation shall not pass, till all these things be done.

31Heaven and earth shall pass away: but my words shall not pass away.

32But of that day and that hour knoweth no man, no, not the angels which are in heaven, neither the Son, but the Father.

33Take ye heed, watch and pray: for ye know not when the time is.

34For the Son of Man is as a man taking a far journey, who left his house, and gave authority to his servants, and to every man his work, and commanded the porter to watch.

35Watch ye therefore: for ye know not when the master of the house cometh, at even, or at midnight, or at the cockcrowing, or in the morning:

36Lest coming suddenly he find you sleeping.

37And what I say unto you I say unto all, Watch."
Luke 11:2, "And he said unto them, When ye pray, say, Our Father which art in heaven, Hallowed be thy name. Thy kingdom come."
There was a that I was praying and the Lord impressed something upon my heart. When I prayed for his return, I prayed for our nation to obey that verse above. That if "...your people which are called by your name shall humble themselves and pray and seek your face....." Then he stopped me and said;
"That's it Lisa. They're not seeking my face. They don't really want to see me. People have trusted Christ as their Saviour, but they're not really ready for me to come. They don't seek my face. They remain in their comfortable lives there on earth and want me to wait before I allow my Son to come for them."
I felt a knot in my throat. Then I cried.
5. To turn from their wicked ways.
Remember that He is talking to US! WE must turn from our wicked ways. Yes OUR wicked ways. What wicked ways are in your heart that you have refused to turn from? Is it your fascination with online games, overspending, materialism, overeating, or refusing to teach your children God's Word? Is it your lack of standard to abstain from ungodly television programming that teach your children that it's okay to have sex before marriage, or being passive about homosexual marriage? Is your wickedness the critical comments and gossip you spread about your very own sisters in Christ? We have wickedness dear brethren and we MUST stop!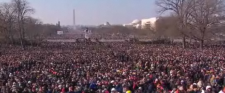 1 Peter 1:15, "But as he which hath called you is holy, so be ye holy in all manner of conversation;"




2 Corinthians 13:11, "Finally, brethren, farewell. Be perfect, be of good comfort, be of one mind, live in peace; and the God of love and peace shall be with you."
I know we all have sin, yet Jesus told us to be holy and to be perfect. Does he expect perfection from a sinner? He knows we will sin, yet he still challenges us to be perfect.
Philippians 4:13, "I can do all things through Christ which strengtheneth me."
So what shall we expect to see if we will obey these
5 commands?
The wrath of the Lord will turn from us he will hear from heaven, forgive our sin, and heal our land.
2 Chronicles 12:12, "And when he humbled himself, the wrath of the LORD turned from him, that he would not destroy him altogether: and also in Judah things went well."
How can we humble ourselves?
Philippians 3:15, "Let us therefore, as many as be perfect, be thus minded: and if in any thing ye be otherwise minded, God shall reveal even this unto you."
Ask him to show you your wicked ways and he will reveal it to you. You then will have the responsibility to acknowledge those things and make them right in the sight of the Lord.
Psalm 51:10, "Create in me a clean heart, O God; and renew a right spirit within me."
What if we don't humble ourselves?
2 Corinthians 33:12, "And when he was in affliction, he besought the LORD his God, and humbled himself greatly before the God of his fathers,"
I believe that God will bring us to our knees one way or another so that our hearts will be turned to Him. How does He do this? He allows affliction to bring us to him.
If we do not face the Lord with humility and submit unto Him, I fear that our country will be afflicted in order to bring a revival to this land. Christians, we can get on our knees before the Lord NOW. Why wait until you are afflicted to come to God? Do you not want to see Him, just as He revealed to me?
Any woman who has been apart from her husband or children for any great length of time has bowed before God with tears from the strong desire to be with them again. Marsha misses her son and desires GREATLY to see him again. I have no doubt she has moments of extreme heaviness over her loss and looks forward to seeing him again. I have no doubt that Mrs. Josephine Lirette misses her husband and cries in agony since he has gone to be with the Lord. I have NO DOUBT that she strongly desires to see her husband again. Hannah begged God, with sobbing, over her prayer request to have a son.
How much do we really pray to see God?
Are we agonizing over it?
How much do we really want to be with Him? Are we REALLY seeking His face and desiring strongly to be with Him again?
How much affliction will you need to suffer from before you get on your face before God and BEG for His return? Why not turn from your wicked ways now?
Here is the song that I heard one night.
'Let America Weep Again' by Julie Montoro

Once as a child we wept and prayed on our knees.

We called on the Lord our God for ev'ry need.

But now we are full and free; there's no need to cry.

Yet we're sick and we're dying, and our eyes are all dry.

Dear people we need to weep and pray for our land;

For only a broken heart will break the bands.

Oh, what will we have to do to break our hearts,

And cause us to weep again, revival to start?

Chorus:

Lord, let us weep again; let America weep.

Sorrow and mourning bring joy to the soul.

Tears of a broken heart will cleanse and make whole.

Lord, let us weep again; let America weep.
Do those words make you feel uncomfortable? Is it hard to ASK God for an affliction to bring His people to their knees to pray for His return? Keep in mind that the Hebrews were in slavery for 40 years in Egypt BEGGING God to deliver them. Do we need to suffer that kind of affliction, at that great magnitude, in order for us to pray and seek His face and turn from our wicked ways?
Maybe you live a 'good life' and don't think of your life as wicked. Then look deeper. Maybe there is something in your life that God has asked you to do and you have refused. Has He asked you to obey your husband in an area that you have not submitted to? Has God asked you to teach your children to follow God, but have left that responsibility up to the church or Christian School to do? Has God lead your husband to have you stay home and you refused because you want a career or money?
Wickedness ca come in various forms. We must seek God's Word for the truth that God wants us to see. Do not simply trust 'Christian leaders' in your life to lead you. They can still be wrong at times. We must look to the scriptures to find God's Will for our lives.
We have a responsibility set before us fellow sisters in Christ. We must turn from our wicked ways. I implore you to seek His face and ask Him to show you where YOU can change.
He is standing at the door of the church and asking to come in. They have shut Him out. Will you let Him in? Jesus Christ himself is the ONLY one who can bring REAL change. Will you let Him change you today?

Sisterlisa is a homeschooling mom of four children and married to a ministry leader of a Rescue mission. She is the owner of Growing in Grace Magazine and AGMinistries.
Related Articles:
Separation of the Saints
So Much More As You See the Day Approaching
The Truth Is Relative