by Cassandra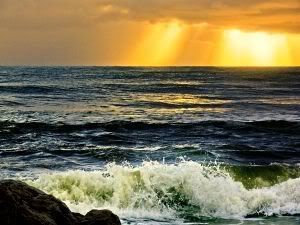 I was just discussing older people and their health with my mother. She has been working in "in home care" for nearly 15 years and was telling me about many of her clients' living conditions. she told me how many of them sit in their houses with the windows and doors shut tightly and all of the curtains drawn.
This discussion came right on the heels of my getting my room ready for the day. I had just opened my window to let the sunshine and fresh air in. I know that I need the sun every day.
We were sitting in the office next to my mother's full spectrum lamp. The lamp is designed to simulate the light and some of the UV effects of the sun. She bought it because she knows that she needs the sun.
There are so many things I have learned in church, christian school, and Bible college about the sun. There are many songs in the hymnal about it. My favorite quote from a sermon is about it. But so often we think of the sun as a temporary thing. I guess in one sense it is, in that eventually all things other than Heaven and God's Word will pass away. But for all of our lifetimes it has been there. warming us, lighting our day, and for many people bringing a sense of peace and happiness that little else can bring. We take it for granted that it will be there in the sky when we wake up every day. Even if we can't see it we know that it is there.
Jesus is like that.
Revelation 21:23, "And the city had no need of the sun, neither of the moon, to shine in it: for the glory of God did lighten it, and the Lamb is the light thereof."





Isaiah 60:20, "Thy sun shall no more go down; neither shall thy moon withdraw itself: for the LORD shall be thine everlasting light, and the days of thy mourning shall be ended.




He is supposed to be our light, warmth and happiness."





Psalm 119:105, "Thy word is a lamp unto my feet, and a light unto my path."





John 1:9, "That was the true Light, which lighteth every man that cometh into the world."
And we definitely take for granted that He will be there.
Psalm 72:17, "His name shall endure for ever: his name shall be continued as long as the sun: and men shall be blessed in him: all nations shall call him blessed."





Psalm 89:36, "His seed shall endure for ever, and his throne as the sun before me."
Sometimes I am more guilty of that than others, but I am trying to remember that He is more than some God in the sky. He wants to have a special relationship with all of us. And we definitely need Him in our lives.
As we get farther along in our Christian lives we tend to get a little complacent in that. Kind of like the older people that my mother takes care of. We forget that we need the Son. I hope I never get that far, but sometimes I need a reminder. God likes to remind me when I ask Him and listen to His Words. That is why daily devotions are so very important. They are our little tastes of the Son.


Cassandra is a single young lady in search of a deeper walk with Christ. She is pursuing her college level studies from home and blogs at
Content of Praise
.