By Sylvia
On November 4, 2005, sitting in my living room I met the ONE I used to think about quite often. I just could not believe that HE was actually real, I saw Him as a fairy tale. I was tired of this life and the things that were happening to me, and I felt as if there had to be more to God than what I was experiencing. I did not know that my sins were separating me from Him, and that's why I did not feel close to Him at all, I actually felt like a hypocrite. I had heard of some people before that God had changed, so by faith I was going to see if this could happen to me also. So I started to pray a heart-felt prayer, and it went something like this: "God, if you change all the people I am going to mention to You, that would make my life so much better."
So I started with my husband, I said," If you make him take us to church that would be great, If you change Ryan that would be even better because he is the reason that I feel the way I do, he is doing bad things and I can't handle it anymore." Then I moved on to my daughter Alyssa, but when I got to Alyssa something happened, God spoke to my heart, as clear as anyone speaking to me before. He said, "You have to change child"!!!
"Yes, this is Jesus, and you have to change".
So right there and then I got down on my knees and as a little child I lifted up my hands in a surrendered state, (Mark 10:15), I said, "Jesus, change me". The instant I called on the Name of the Lord Jesus, His presence fell upon me and I was meeting the Love of my life JESUS... FOR THE FIRST TIME, and I was caught up in a love that I had never in my whole life felt. It was as if waves of liquid love were being poured over me. I thought that my heart was going to explode, and I also felt GOD'S HOLINESS. Listen, I love to tell people that God is LOVE, which He is, but I will never ever leave out that He is Holy, so HOLY.
When I felt His holiness, I felt my shame, and He let my whole life flash before my eyes, it seemed to have only lasted a second, talk about a movie of my life being played in front of my eyes, that's what it was like, you know those movies that flash really fast of people's lives. Then, after seeing my whole life and how wicked I had been compared to God, I was so sorrowful at knowing that the Lord took upon His own body the punishment of my sins, and that sorrow led me to repent of all I ever did, and I asked Jesus to forgive me, and the weight of them being lifted off as if He was extracting them out of me, and I confessed Him with my mouth, because He was there with me. Then I believed in my heart that God raised Him from the dead. The instant that I believed in my HEART that He was resurrected, I became born-again of the spirit. In John 3:3 Jesus says, "that unless a man be born-again he cannot see the kingdom of God".....my spirit had died because of my sins.
I had always seen Jesus on the cross, but I had never seen Him being taken off and walking out of the grave victoriously for me. Romans chapter 10 says,.... "that if you confess the Lord Jesus and believe in your heart that God raised Him from the dead, you will be saved, because with the heart one believes unto righteousness, and with the mouth confession is made unto salvation." Then I went out my back-door and looked up to the sky and cried "DADDY" I was calling the maker of heaven and earth DADDY. Romans chapter 8:15-16 says, that when His Spirit joins with our spirit we cry out "Abba, Father" Abba means Daddy in Aramaic. And so I have been forgiven of everything.....O, to explain the freedom that came from knowing that when He was on the cross He was dying for me, paying my sin debt, it changed my DNA, everything within me was changed, I felt it....God's holiness and His LOVE are TANGIBLE you can feel them.
HE gave me a new start, a clean slate and I will forever adore Him and be grateful. Another thing that happened is that I felt His love for me, but He also let me feel His love for humanity. God doesn't just love the lovely and good people, He loves us all, and He desires an intimate and personal relationship with us. He is not interested in how many times we go to church, or how many times we help an old person at the grocery store. All the good deeds that He intended for us to do will come as a result of having this relationship with us.
Now I know what my purpose is, it is to spread His love wherever I go, telling the whole world of His saving grace. Another thing that happens as a result of being born-again of God, (John 1:12-13) is that He opened up my understanding of the Scriptures and the Holy Spirit within me was teaching me all things. (1 John 1:20-27)Our spirit is quickened and we receive a regenerated heart, a brand new heart. God says in Ezekiel ch 11 that He will take out our STONY HEARTS and give us a tender and responsive heart, a heart of flesh.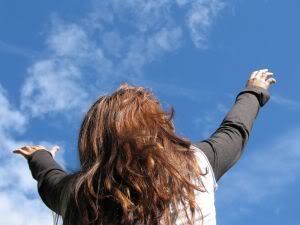 And I know now what Paul meant when he said that he had been crucified with Christ, and that it was no longer he who lived but Christ who lived in him, Galatians 2:20. O, how I pray that all who read my testimony would understand how much He loves you, His love has dimensions, (Ephesians 3:18-19) I float in His LOVE, and you can too. And I want all of you to know that there isn't anything that you have done that He has not already paid the price for. Behold the Lamb of God who takes away the sin of the world....there is only one sin that God does not forgive for and that's the sin of rejecting Jesus, because all the other ones have been payed for....this is some good news, don't you agree? ...are you part of the world??, if you answered "YES" then you are part of this world and He died for you too. All you have to do is surrender to Jesus and come to Him, He is waiting for you, to take you home and present you to His Father, "YAHWEH".
That tugging at your heart is no coincidence, it is Jesus knocking at the door of your heart, "Revelation 3:20, Behold I stand at the door and knock, if anyone hears my voice and opens the door I will come in to him and dine with him, and him with Me.." But you are the only one with a door knob, so that means that you are the only one that can let Him in. God is so good, and it is His goodness that leads all people to repentance. This is the Gospel of Jesus Christ, and this is my spiritual birth....And now I know that I will be with Him throughout eternity.
I used to be so afraid of dying because I knew that I had not made peace with God through His son Jesus and I would have spent my eternity in outer darkness because I had rejected the greatest Gift ever given to us. (John 3:16)...and it is God's grace that saves us through the faith that He has given us, but faith alone does not save, it has to be combined with His grace....AMAZING GRACE, HOW SWEET THE SOUND. So you see, I started my prayer asking God to change everyone around me, and instead, He changed me, and in return He gave me His unconditional love for them (Agape Love)...so that I would be able to handle my circumstances...God knows our hearts and He knew how much my heart wanted Him.
Then after all this happened to me I became very hungry for God and His Word, so I renewed my mind with His Holy Word,( Romans 12:1-2) because even though I had a new Spirit, my thoughts and the old way of thinking was still there. It's His Word that washes us clean like water. Ephesians 5:26...So read your Bibles by starting with the gospel of John.
Sylvia
is a wife and mother to four children with a passion for Jesus that manifests through her life.
Stumble This!